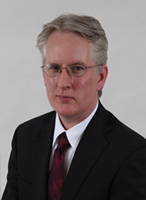 John H. Hamilton, MSME PE
17252 N Highway 215
Mountainburg, AR 72946
479-790-6782 * 479-369-0326 Fax

Since 2002, Assistant Professor in the University of Arkansas at Fayetteville Mechanical Engineering Department.  Previously, worked as a full-time consulting engineer assisting professionals in both industry and the legal community. Has worked in industry as a manufacturing and plant engineer and has been responsible for the safety of an industrial plant with over 300 employees. Provides consulting to industries, individuals, and attorneys in a wide range of safety and machine design issues. Examples include agricultural and industrial machine guarding cases, and agricultural and industrial safety systems.
Education
MSME 1997, University of Arkansas, Fayetteville, Study in Thermal Systems
BSME 1990, University of Arkansas, Fayetteville
Professional Engineer License
Licensed Professional Engineer registered in Arkansas
Previous Work Experience
Senior Engineer, Ryan Engineering, Inc., Siloam Springs, Arkansas, 1998-2002. Duties included industrial consulting and serving as an expert witness.
Instructor, John Brown University, Siloam Springs, Arkansas, 1996-1998. Taught undergraduate Science and Engineering classes.
Instructor, University of Arkansas, Fayetteville, Arkansas, Summer 1996, Summer 1997, Fall 1999. Taught undergraduate Thermodynamics classes.
Graduate Teaching Assistant, University of Arkansas, Fayetteville, Arkansas, 1994-1996. Responsible for helping undergraduate students learn basic engineering principles.
Independent Consultant, Fayetteville, Arkansas, 1994-1998. Various consulting projects included performing energy analysis on infrared space heaters to completing federally required hazardous material emissions reports.
Plant Engineer, FM Corporation, Rogers, Arkansas, Nov 1991-1994, Summer 1997. Responsibilities included facility and equipment upgrades and revisions and plant-wide compliance with safety and environmental regulations.
Manufacturing Engineer, FM Corporation, Rogers, Arkansas, Jan-Nov 1991. Responsibilities included designing and improving manufacturing processes and communicating with customers as needed.
Engineering & Design Experience
Developed process sheets for molding, assembly, and finishing of plastic parts
Designed and oversaw completion of a chilled water system
Upgraded structural foam (injection molding) machines to use PLCs and modern hydraulic technology
Designed guarding for molding and machine tools
Designed mezzanine
Designed stairs
Designed guard rails
Assisted in performing thermal analysis of wood-burning furnace
Developed testing procedure to establish efficiency of infrared heaters
Designed and built machines to rework plastic parts
Designed various jigs and fixtures to aid in production of plastic parts, which included
drilling, cutting, welding, inserting, etc.
Implemented OSHA standards in an industrial facility
Designed elutriator for cyclone dust collector
Designed guards
Courses Taught and Academic Experience
Thermodynamics I and II
Engineering Design I
Machine
Design
Fluid Mechanics
Technology and Society
Mechanical Engineering Lab I
Mechanical Engineering Lab III
Heat Transfer

College Physics I and II
Materials Science
Physical Science
Dynamics
Mechanical Systems for Buildings
Mechanical Engineering Lab II
Industrial Waste & Energy Management
Created and teach Design for Safety, a senior level mechanical engineering elective.
Serves as mentor for senior design projects involving industrial applications.
Researched feasibility of two-phase effervescent fluid atomization of a liquid by means of a liquid chemical reaction for the purpose of hypersonic air travel.
Researched the effect of molecular mass of an atomizing gas in effervescent atomization applications.
Publications and Articles
"Two-Phase Effervescent Atomization Via a Liquid-Liquid Chemical Reaction," University of Arkansas Press, 1997
"Hazard Analysis," Plant Engineering, December 2002
"Photography Primer for Evidence Photography"
Continuing Education
Occupational Safety and Health Administration Guide to Voluntary Compliance
Accident Reconstruction
Manufacturer Training of Programming Various PLCs
Various seminars on Environmental Compliance
Professional Organizations
Member, American Society of Mechanical Engineers (ASME)